---
Robot Polishing Advantages And Development Prospect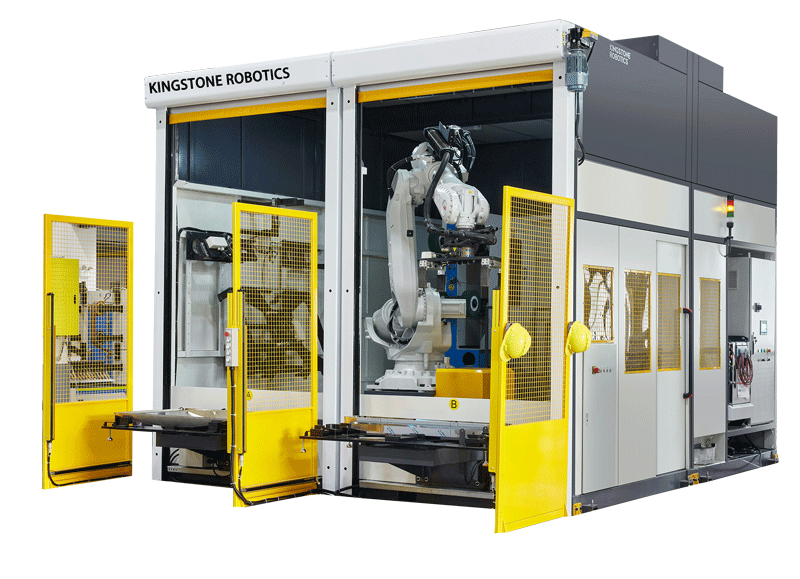 You can click here: automatic robot polishing grinding machine to view more machine introductions, and maybe you are interested in the machine working video:  robot polishing working process video.
The traditional manual grinding polishing production method has three major problems: low efficiency, high cost, and insufficient safety.
The limitation of manual grinding not only seriously hinders the development of the grinding industry itself, but also seriously hinders the development of the entire manufacturing line.
The application of robot polishing in the production line has greatly met the upgrading needs of the industry to improve efficiency, increase speed and reduce costs.
At present, the advantages of robot polishing grinding compared with manual labor are mainly reflected in three aspects: cost savings, product consistency, and operational safety.
The robot polishing is not affected by the physical strength and emotions of the workers, the grinding quality is stable, the defective rate of finished products is significantly reduced, the grinding speed is fast, and the production efficiency is improved.
Continuous production can be performed 24 hours a day, labor costs can be saved, the environment can be improved, dust pollution can be reduced, the cycle of product modification and replacement can be shortened, corresponding investment in equipment can be reduced, re-development, and users can perform secondary programming according to different samples, etc.
At the same time, the use of robot polishing grinding also has a good effect on the quality of grinding, product smoothness, and product consistency.
Due to the various safety hazards and high-intensity work pressure brought about by traditional manual grinding operations, manual operations are obviously not suitable for the long-term development of enterprises.
Therefore, with the continuous development of robot technology and the further improvement of product quality and production efficiency requirements in the future, robot polishing grinding will receive unprecedented attention and application.
The robot automatic surface polishing unit and automatic control system are mainly used in industries such as bathroom leading products, automotive, motorcycle components, and building hardware that requires surface polishing treatment. They are a fully automatic polishing system that is operated by artificial intelligence, fully automatic control, and repeatable programming, and can complete various tasks in three-dimensional space.
It is an electromechanical integrated automation production equipment. Especially suitable for flexible production in harsh environments, with multiple varieties and large quantities, it plays a very important role in stabilizing and improving product quality, improving production efficiency, improving labor conditions, and rapidly updating products.
We have core technologies and independent intellectual property rights such as an automatic constant pressure system, multifunctional automatic fixture, composite material polishing wheel, and a complete software system. The product fills the domestic gap, and advanced technology enables the system to handle various complex-shaped work-pieces, ensuring the processing quality of work-pieces and product consistency.
Nowadays, the robot grinding and polishing processes for complex geometric shaped work-pieces (aviation blades, steam turbine blades, human joints, sanitary ware, hardware tools, etc.) both domestically and internationally are manually completed, which not only have disadvantages such as low processing efficiency, difficulty in ensuring product consistency, poor working environment for production personnel, but also high management costs.
The fully automatic robot flexible machining system grinding and polishing solution realizes the automation of complex shape work-piece grinding and polishing by configuring robot systems, grinding and polishing mechanisms, interactive grinding and polishing system software, three-dimensional measurement systems, etc., improves the yield, shortens processing time, and greatly reduces production and management costs for enterprises.
Kingstone takes (Sweden) ABB robot company, Germany KUKA (Kuka) company, and Japan FANUC (Fanuc) company as strategic partners. We have developed a series of comprehensive systems for the robot polishing grinding surface treatment of metal products with new ideas with our own intellectual property rights. Among them, the "robot automatic surface polishing unit and automatic control system" was rated as a high-tech product.
Kingstone Robot is specialized in the development and manufacture of industrial robot system integration and engineering equipment and has an experienced professional R&D team. It integrates quality, technology, service, and cooperation, and manufactures and produces with a scientific and rigorous style.
---